What is Lash Lift?
Lash lift (also known as eyelash perm) is an innovative new way to perm the natural eyelashes and keep them looking curly and fantastic for 6-8 weeks.
The Lash Lift is a 3 step process that perms, neutralized, and conditions the natural eyelashes. This process is easy and produces stunning results. Imagine never needing to curl your natural eyelashes again!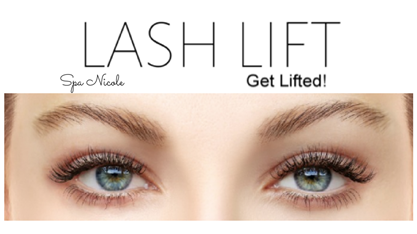 Options
I have two different curl options for you to choose from. Yes two different options! If you are looking for a nice natural looking curl we can go with the J-Curl and focus more on just a lift. If you would like that true curled looked then C-curl is the best! Both will lift you up and help you love your lashes. When you come in we will go over both options and I can help you decide what is the best choice for you.
Why this is great!
This is a great choice for clients that cannot have eyelash extensions due to sensitivities or any other reason. This can also be a nice alternative if you are just wanting to take a break from eyelash extensions or using those crazy eyelash curlers.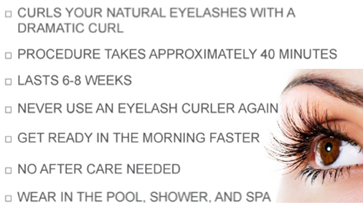 Best part no maintenance! You can swim, workout or rub your eyes and never have to think about it. They are YOUR natural lashes.
Product used - Lash Stuff Lash Lift.